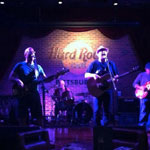 www.facebook.com/bluemoonharem
www.bluemoonharem.com
BIO
Jonathan Bix (vocals, acoustic guitar) began teaching himself guitar after years of coaching on violin and found himself being influenced by The Beetles and Steve Miller.
Other band member, Demetri Joannou (lead guitar) fell in love with music at the age of 8 and began writing his own songs at 19. Joannou and Bix met in the mid-90s when they became band members for Requiem. The duo began working on their own sound and harmonies, causing them to release a new album under the name Blue Moon Harem.
Other band members include: Stephan Hart (drums and percussion) and Jose Hernandez (bass guitar).
VIDEOS