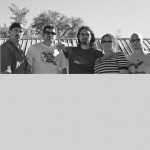 http://christareneeband.bandcamp.com
www.reverbnation.com/christareneeband
Find them on Facebook too!
BIO
Christa Renee is a singer/songwriter who draws on her Caribbean roots and soulful grooves to produce music that is from the heart and hits on the dance floor. Christa Renee plays a unique mix of reggae, soul, rock and dance rhythms set to memorable melodies and lyrics that range from the political, social to intimately personal.
Christa Renee, the child of a Jamaican mother and American father, tackles topics such as police brutality, race, 9/11, sexuality and recovering from a volatile relationship. Audiences will have to contemplate the lyrics on the ride home as they are overcome by the urge to dance and move to the infectious beats.
PRESS/REVIEWS
"Christa is an excellent songwriter." – Tim Louie, The Aquarian Weekly
"In a time when record producers and venue promoters hedge their bets on artists with more style than substance, it can be tough being a girl with a guitar…but with more and more shows under her belt, she's winning over local audiences with greater ease." – Katie Beth Ryan, The Hippo
"…For the People, the debut CD from Christa Renee Band, is an insistently danceable effort propelled by a strong Latin backbeat with elements of reggae, soul and even a few punk echoes from the likes of Lene Lovich and the Clash." ~ Michael Witthaus – The Hippo
"A furtive vocal sidles up to us, almost a little too close so that she is singing almost directly in our ear. This vocal isn't overpowering; rather it sneaks up on us under some cloak of invisibility and it like "Oh hey, here I am!" all of a sudden. Christa Renee's smooth vocal delivery matches in perfectly with the sleek silk of the song's arrangement. The vocal adds a bit of echoey warmth to the mix, making us realize that maybe it's not sneaking up on us – it just wants us to sneak along with it." ~  C.D. Di Guardia – Boston Band Crush
 VIDEOS