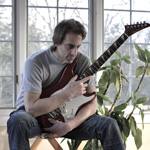 www.reverbnation.com/craiglagrassa
BIO
Craig was born and raised on the North Shore of Boston. A prolific performer, singer songwriter, composer and teacher, Craig's musical career spans over 25 years. His unique style has been compared to Chris Cornell, Lindsey Buckingham, Paul Rodgers, and Santana.
Craig performs throughout the North Shore of Boston. In addition, Craig hosts three successful open mics, teaches workshops and is the lead guitarist/lead singer for a cover/wedding band. Currently Craig is recording his 4th CD of originals, in which he plays guitar, bass, keyboard, drums, together with his signature vocals.
Craig's warm smile, soulful voice, meaningful lyrics and powerful energy puts a smile on those he entertains. Don't miss out on a true natural artist who will spark your mind, touch your heart and soothe your soul.