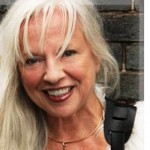 www.juliedougherty.net
www.myspace.com/juliedougherty
Find her on Facebook!
BIO
Julie Dougherty has recently released her third CD, The Sweet Unraveling. This disc begins yet another chapter in a full and rewarding career of writing and performing as one of the finest divas in New England's substantial folk/pop arena. With over 30 years as a career singer-songwriter, Julie has well established herself as a respected and loved performer in the region's folk scene. In addition, Julie has enjoyed extensive forays into the music scenes of Nashville, Texas and Los Angeles.
Julie's solo renditions of her music are haunting and beautiful. She also performs with various accompanying musicians as the occasion demands, ranging from a lone guitarist or saxophonist up to an entire 8 piece band complete with backing singers. Julie's versatile compositions have been interpreted equally well in the most intimate coffee houses and on large festival stages. Julie was recently a featured interview on Marilyn Rea Beyer's "Live at Noon" program on W-UMB Folk Radio in Boston. Her new disc is in rotation on WUMB.
PRESS/REVIEWS
"… "Over the Rainbow," and "Ain't That Peculiar," but don't get the idea that she's just an encyclopedia of
covers, she ends with "The Real Deal," a tune crafted together with her super talented niece, Kelly
Fitzgerald. The super part runs in the blood—and Julie Dougherty consistently displays her talent
effortlessly and humbly—the kind of experienced professional who is always worth seeing." ~ T Max, The Noise
"The movement of Joni Mitchell's Hejira comes to mind as you experience the jangly guitar and expert electric bass-playing on Julie Dougherty's latest release…Dougherty plays both acoustic and electric guitar on the record and shows a capable hand with both…Rich vocal harmonies and the occasional keyboard, flute or saxophone complete the sonic picture. Overall, a collection of songs that display the grace and mellow confidence of a professional musician doing her own unraveling and thoroughly enjoying herself. "~ Performer Songwriter Magazine
"…I don't know anybody that can pull folk, jazz and funk together like you, gal! What a pleasure to hear you connect all your talented dots over such a rich array of players…this CD grooves!" ~Noel Paul Stookey, Peter, Paul & Mary
VIDEOS