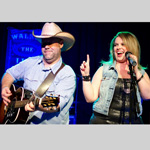 www.walkinthelineband.com
Find him on Facebook too!
BIO
Now you would think that Kevin was born and raised in Nashville, TN with his love for country music. He has been performing in local country acts for over 20 years with groups such as "Wreckless", "Almost Cowboyz" and most recently "Country Mile". A New Hampshire Country Music Association multi-award winning singer/entertainer, Kevin has also shared the stage opening for such acts as Emerson Drive, Ronnie Milsap, Ty Herndon, Deanna Carter, Blackhawk and Charlie Daniels just to name a few. You can also find Kevin performing his "Tribute to Garth Brooks" at a venue near you.