http://luxtheband.com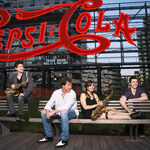 www.facebook.com/luxthebandma
https://luxquartet.bandcamp.com/releases
www.instagram.com/lux_the_band
https://open.spotify.com/artist/1j1kkpAVhRkWyQPcPiaT2M
BIO
Hear what venues all over New England already know – LUX is a funky / jazzy / quirky / entertaining / engaging quartet from Newburyport, MA and will be the band that you invite back time & time again – no matter what the season.
They are the perfect blend of fun and intelligent music; performing wide-ranging covers and well-crafted originals. They are a blast to see live; and are equally at home playing a private party, an indie festival, an art house, all the way to a trendy nightclub. LUX can easily transition to an opening band, a complementary double-bill, or standalone entertainment.
Although the term "jazz" is in their description, the LUX approach is closer to Trombone Shorty than to Miles Davis. With cover songs from artists as diverse as Django Reinhardt, Stevie Wonder, AC/DC and Amy Winehouse, along with their well-turned originals, they entertain across the spectrum!
VIDEOS