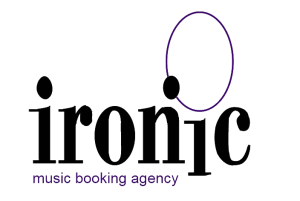 Ironic Music Booking Agency
Ironic Music Booking Agency is the most comprehensive booking agency on the New England music scene. We handle a wide array of artists and are confident that we can provide the perfect entertainment for any venue or situation. Whether you're planning a small party or a major event, we can assure you the best possible talent. If cover or original bands, DJs, Karaoke MC's, tribute bands, original singer-songwriters, or a comedian are what you're looking for, we've got them. We pride ourselves in differentiating from the 'average' booking agent in that we focus a great deal of attention on the promotion and marketing of all the gigs we book…unlike any other booking agent around! Social media networking and marketing is where it's at…



Our Goal
Ironic Music Booking Agency focuses on booking acts North of Boston up to Southern ME. Our goal is to help musicians broaden their horizons and get more gigs, as well as help venues that are looking to get to know new and different talent. We work with everyone from single musicians to full bands, and strive to find the perfect musician/band to fit the venue. We are highly specialized in solo, duo and trio acoustic acts, which generally are a good fit for smaller, restaurant-type venues seeking to spend less money but not give up on great, live entertainment!
How We Work
Ironic is experienced in contract negotiation and adamant about striking up the right agreement between venue and artist. We firmly believe that there is NO reason everyone can't be happy. That is our goal and a fundamental part of our job – to ensure that both the musicians we represent, and the venues we are in contact with, are getting exactly what they need.
Promotion
Ironic is no stranger to social media, networking, promotion, PR and marketing. We believe in helping both the venue and the artist/band with promotion. We also are firm believers that successful, effective promotion truly is a joint effort! We have a number of contacts with journalists (print, radio, community TV & web alike). As we all well know, the more people at the gig, the more everyone's happy!
You can find Ironic on Facebook, Twitter, LinkedIn, Instagram…and tons of other sites…just Google us and see what you come up with! We are the MOST thorough music booking agency in the area when it comes to promoting our gigs!

IRONIC GIG CALENDAR
For a listing of where Ironic's artists are performing, check out the calendar below:
Click here for larger View