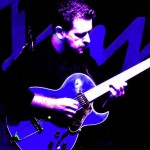 http://paulspeidelband.com
www.facebook.com/paul.speidel.12
BIO
Immersed in the Blues while growing up, Chicago native Paul Speidel has been a recognized name on the Boston music scene for over 20 years. Paul has earned a reputation as a versatile and energetic guitarist who has freelanced extensively, in addition to fronting Blues and Jazz groups under his own name. An early background in music, combined with years of experience as a working player have earned Paul the opportunity to share the stage with such musical luminaries as Jay Geils (J. Geils Band), Duke Robillard (Roomful of Blues, Fabulous Thunderbirds), Patti Page, James Montgomery, Taylor Made, Howard Alden and many others.
Paul performs most often fronting his own group, the Paul Speidel Band, mixing a variety of Blues-based styles from R&B to Swing, infused with a good dose of Funk and Rock & Roll. The Boston Blues Society recognized them in the 2006 Boston Blues Challenge, where they were chosen for the Semi-Finals, and then again in 2008, where they were Finalists in the Blues Challenge. The renowned Downbeat Magazine acknowledged the Band's 2005 live release "Guitar Bass Drums" with a strong three-star review. With a total of six CDs to their credit, their music is widely available on popular services like iTunes and Rhapsody. In addition to writing all original material for his Band, Paul's award-winning compositions have been used in soundtracks for industry and training videos.
The music of the Paul Speidel Band has caught the ear of local radio, including recent spins on stations such as WZLX, WBRS, WMBR, WMFO and WICN, as well Boston's own local NPR affiliate. Their music has also been featured as the theme music to internet radio stations, and can be regularly heard on Blues shows on public and commercial radio programming across the country.
In an era when anyone can remix classic LPs, download drum loops or strum a few chords onto a computer and cut and paste their way to fame, The Paul Speidel Band is a group of three seasoned musicians who have learned how to make something special happen on stage through playing live music. A local Blues guitar veteran, Speidel and his band celebrated 15 years of dues-paying on the Boston blues scene in 2004, with the release of their debut CD, "The Paul Speidel Band". This CD showcases their unique blend of rockin' blues, jazzy grooves and catchy hooks and riffs.
In 2005, The Paul Speidel Band recorded and released "Guitar Bass Drums", which came out to critical acclaim ("Three Stars" — Downbeat Magazine). And, in 2008, they were chosen as Finalists in the Boston Blues Challenge. They are currently working on a 3-CD project of their digitally-remastered archive material, which was recorded live in clubs, concerts and during radio broadcasts in the 90's and early 2000's.
PRESS/REVIEWS
"From the minute I popped this disc into the CD player, I began bobbing my head and tapping my feet. What at first appeared to be music for an older generation, turned out to be an album of a very entertaining blues/jazz combo by very talented musicians." -Laurie Hackney, Live Magazine
"This is a great CD [Self-titled] for guitar fans, and not just those into blues." -Dave Howell, Southbound Beat Magazine
"I think there is something here for everyone. This is not just another blues bar band jamming. These are all pro level players. The CD [Self-titled] was mostly recorded live, and this helps to capture some excitement in the performance." -Tim Hamm, JazzReview.com
VIDEOS